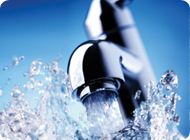 Quick Tip
Lake Ontario, the source of MCWA water is the 13th largest lake in the world with 393 cubic miles of water. It is also the second deepest of the great lakes, at an average of 282 feet
MCWA to Host Public Information Meeting on Proposed Rate Changes
Monroe County Water Authority will host a public information meeting regarding proposed water rate changes slated to go into effect January 1, 2022.
Rates are estimated to increase by $0.94 per month for typical homeowners. Click here to view the full breakdown.
The public information meeting will be held at Monroe County Water Authority's General Offices, located at 475 Norris Drive, Rochester, NY 14610, on Wednesday, December 1, 2021 at 3 p.m.
All attendees must wear a mask and will be required to answer COVID screening questions prior to entrance.
For more information, please call Amy Molinari, Director of Finance and Business Services, at 585-442-2000.