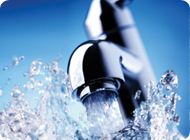 Quick Tip
Lake Ontario, the source of MCWA water is the 13th largest lake in the world with 393 cubic miles of water. It is also the second deepest of the great lakes, at an average of 282 feet
Now Accepting Apple Pay, PayPal, Venmo
Monroe County Water Authority is excited to expand its digital payment options with the addition of Apple Pay, PayPal and Venmo.
MCWA is committed to delivering superior customer experiences and recognizes evolving customer preferences. Adding new digital payment options allows customers to conveniently and securely complete their billing needs in the way that best suits them.
To pay a bill, log into the Customer Portal here and select "Make a Payment." Online payments are processed through a third-party provider for a fee of $1.30 per transaction. PayPal is also available for one-time payments.