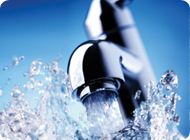 Quick Tip
Water from MCWA is high quality. Questions? Call MCWA's Customer Service line (585) 442-7200, USEPA at 800-426-4791, or Monroe Co. Health Department at (585) 753-5057.

MCWA Tap Water Provides
Community Fire Protection
Unless you are looking for a parking spot or walking a dog, you probably don't pay much attention to fire hydrants. But at MCWA, we do. The same system of water mains, pumps and storage tanks that reliably provides clean tap water to your home also provides excellent fire protection for the community. We are proud to provide this important service to our entire customer base.
Always at the ready
While firefighters primarily handle hydrants in an emergency, MCWA takes responsibility for day-to-day hydrant operation and maintenance. This means keeping clean water flowing — at the right pressure — to working hydrants around the clock all year long.
An extensive challenge
In MCWA's service area, we properly tend to more than 27,000 public fire hydrants strategically placed along our 3,400 miles of water mains.  Having a hydrant relatively close to a home or building can be a factor in fire insurance premiums.
You can help
You can help with the job of maintaining the fire hydrants in your neighborhood by making sure the snow is removed from around them in the winter. Precious minutes can be saved when there is a fire if the hydrant is clear and available to firefighters. Also, if a hydrant near your home looks like it needs to be painted, call us at (585) 442-2000 to get that hydrant added to the schedule.