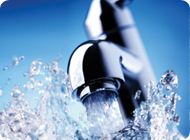 Quick Tip
MCWA's Shoremont Water Treatment Plant can produce up to 140 million gallons a day.
Q. What is the difference between Monroe County Water Authority, Rochester Water Works and Pure Waters?
Monroe County Water Authority (MCWA) is an Authority created by New York State statute to supply clean water to residential, commercial and industrial customers outside of the City of Rochester.
City of Rochester Bureau of Water is a bureau of the City's Department of Environmental Services, which supplies clean water within the City limits.
Pure Waters is a Division of Monroe County's Department of Environmental Services. They treat the waste water collected in sanitary and storm sewers.
Q. What is the MCWA's service area?
Q. Where does my water come from?
Q. Why are antennas on top of some water towers?
MCWA leases space on water towers to cellular carriers, which provides additional revenue and helps keep our rates low.
Q. Who is responsible for the water lines to my house?
MCWA maintains the water meter and the water service line from the water main to the outside shut-off valve. Homeowners are responsible for the service from the curb box to the house, including inside shut-off valves.
Q. There is water in my front yard. Who is responsible for the repair?
If you see water accumulating in your yard, call Customer Service at 585-442-2000. We will send a service technician to determine where the leak is located on the service line. If it is leaking between the curb box and the main, MCWA will repair the leak. If it is leaking between the curb box and your property or anywhere within the internal plumbing system, it is the property owner's responsibility to repair.
Q. Is it okay to plant near the curb box?
No. Plants, trees, shrubs or permanent fixtures can impede our ability to service your lines. It is recommended that you call Dig|Safely. New York at (800) 962-7962 before doing work at or near the right-of-way so that the utility companies can mark the location of their service lines.
Q. How long will my water be off during repairs?
It depends on the work being performed. About 50% of all breaks are fixed within four hours, and 90% are fixed within eight hours. Call (585) 442-7200 for information on your repair.
Q. Why are colored stakes, flags or paint marks on my lawn or sidewalk? They show the location of utilities in that area. We are required by law to mark our water lines any time a contractor will be excavating within 15′ of our mains. When these markers appear, it means excavation work has been scheduled or has recently been completed. Different colors are used to indicate the location of different utilities:
BLUE = water
RED = electric
YELLOW = gas
ORANGE = TV and cable
GREEN = Sewer
Q. Who do I call if I'm installing a swimming pool, fence or a sprinkler system in my yard?
Call Dig|Safely. New York at (800) 962-7962 to notify all utilities (including MCWA) to stake lines before you dig. If you are installing a lawn sprinkler system, contact our Backflow Department (585) 442-2000 to insure you are in compliance with NYS and County Health regulations.
Q. Where is my shut-off valve located?
It is about three feet off the floor near the meter, located on the wall facing the street where the water service pipe enters the building.
Q. The shut-off valve is leaking in my basement. Who is responsible for the repair?
MCWA maintains the water main to the outside shut-off valve (curb box) located at or near the property line. We will also repair or replace your water meter if it is faulty due to normal wear and tear. The property owner is responsible for the service line between the curb box and the house and all other internal plumbing. The property owner is also responsible for the replacement and maintenance costs associated with missing meters and preventable damages such as freezing and tampering.
Q. What is water hardness?
Water hardness is a measure of the mineral content of water. MCWA water is considered moderately hard and contains between 5.6 and 7.6 grains per gallon of Total Hardness (100 to 125 milligrams per liter).
Q. Do I need a water softener?
No. A water softener isn't necessary for water with moderate hardness.
Q. Why is my water fluoridated?
Water provided by the MCWA contains a controlled, low level of fluoride (about 0.7 parts per million) as recommended by the EPA to help prevent cavities.
Q. Is there lead in my water?
Lead is not in the public water supply when it leaves our treatment plants. However, lead might enter your water if it sits for long periods of time in private plumbing lines that have either lead solder or fixtures containing lead. Running the water for 15 to 30 seconds will clear out any lead that may be present in the water.

Although there is no detectable lead in the water that we deliver to your house, if you would like to have your drinking water tested to determine if your plumbing is contributing lead to your water, two state-certified laboratories that offer lead testing are listed below:

ALS Environmental – Rochester
(585) 288-5380
1565 Jefferson Rd.
Bldg 300, Suite 360
Rochester, NY 14623

Life Science Laboratories LSL Finger Lakes
(585) 213-4090
16 North Main Street
P.O. Box 424
Wayland, NY 14572
If you have questions on lead testing, please contact our water quality laboratory staff at Lab@mcwa.com
Q. Do you use Chloramines to treat the water?
MCWA uses chlorine, not chloramine, to treat your drinking water.
Q. How can I get a copy of the MCWA Water Quality Report?
Request a copy by contacting the MCWA Customer Service office (585) 442-7200, or click here to print a copy of the Water Quality Report.