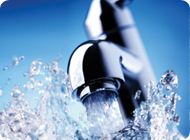 Quick Tip
Lake Ontario, the source of MCWA water is the 13th largest lake in the world with 393 cubic miles of water. It is also the second deepest of the great lakes, at an average of 282 feet
Imagine a Day Without Water
What would happen if you turned on your tap and no water came out? You wouldn't be able to bathe yourself or your children, do laundry or flush your toilet. No water would mean hospitals couldn't function, firefighters couldn't do their jobs and our ultimately our economy would crumble.
"Imagine a Day Without Water" is a national education campaign that highlights the value of water and the need for investment in infrastructure. This year's day of action took place on October 20.
MCWA Director of Engineering Steve Savage and Director of Production and Transmission Chris LaManna spoke with News 8 to highlight the dedicated team of experts, extensive treatment processes and massive infrastructure required to ensure you have clean, safe water when you turn on your tap. Click here to see the news story.
To learn more, visit imagineadaywithoutwater.org.