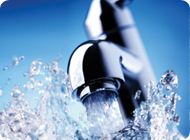 Quick Tip
Lake Ontario, the source of MCWA water is the 13th largest lake in the world with 393 cubic miles of water. It is also the second deepest of the great lakes, at an average of 282 feet.
Lead in drinking water does not come from the treatment plants and water mains; it typically gets into drinking water as a result of corrosion of plumbing systems (pipes, faucets, drinking fountains or lead solder) in customer's homes and buildings.
---
The Water Authority has been testing the public water supply for lead since 1992. We can say with certainty that the water delivered from the distribution system to our customers does not contain harmful levels of lead, and that it is treated for "optimal corrosion control" as defined by the U.S. Environmental Protection Agency (EPA).
We are not content to simply comply with regulations. We not only observe the letter of the law, we embrace the spirit of it. When the lead regulations were issued by EPA in the mid-1990s we decided to replace any lead services in the public water supply system that we find – even though it is not required.
Information on lead in drinking water, testing methods, and steps you can take to minimize your exposure can be found below. More information is available from the EPA's Safe Drinking Water Hotline at 1-800-426-4791 or on their website: http://www.epa.gov/your-drinking-water/basic-information-about-lead-drinking-water.
Lead Questions Answered
How does lead get in water?
The Water Authority is responsible for providing high quality drinking water, but cannot control the variety of materials used in private plumbing components. The water from our plants is treated for optimal corrosion control, which minimizes the amount of lead that older private plumbing fixtures can release into the water, but cannot eliminate it entirely. While our testing indicates lead is not in the water we provide, it is possible that lead might enter your water if it sits for long periods of time in private plumbing containing lead.
If lead is present in the water from a building's plumbing system, it is likely that the source of the lead comes from older plumbing materials. Pipe, solder, fittings and fixtures installed before the mid-1980s may contain lead, which can slowly release into the water. Congress banned the use of lead pipes and leaded solder in 1986. In 1986 Congress also limited the amount of lead in brass to 8% and later in 2014 reduced the limit to a much lower level (0.25%).
What are the Water Authority's lead testing results?
The Water Authority's water system is, and always has been, in compliance with the federal and state standards for lead in drinking water. We test factors that affect water corrosiveness on a daily basis and collect samples for lead at various customer taps as required by the regulations. We test the water from our treatment plants and the water we purchase from the city of Rochester and Erie County Water Authority regularly for lead. In the last 30 years there have been only a few detections at trace levels, all about one-tenth of the EPA's action level or less. Since the problem can arise from contact with lead-bearing materials in private plumbing components by water, testing regulations focus mainly on samples collected in customer's homes. In accordance with EPA and NYS Department of Health regulations, once every three years we test over 70 homes that EPA defines as representing the worst case, or highest risk for potential lead contamination: homes with lead service lines or constructed before the 1986 lead plumbing ban. Our system has always been well below the regulatory action level of 15 micrograms per liter.
I understand that lead isn't a problem in the water in the distribution system, but what can I do if I am concerned that there might be lead in my home plumbing?
First, any time water is not used for several hours, "flush" your cold water pipes by running the water until it becomes as cold as it will get; this typically takes between 30 seconds and 2 minutes. This will bring in fresh water from the water main in the street to your tap, minimizing the amount of time any lead containing plumbing or fixtures is in contact with the water being used.
When drawing water for drinking or cooking purposes, use only cold water, especially when preparing baby formula. It takes slightly longer to heat the cold water, but the water will be of higher quality.
There are filters available that can be installed to remove particulate lead. If you purchase one, we highly recommended you get one that has the National Sanitation Foundation's "NSF 53" certification and follow the manufacturer's recommendations for its maintenance.
If you live in an older home, the surest way to remove concerns about lead is to remove and replace any fixtures or plumbing containing lead. Qualified plumbers can tell you for sure if you have any lead plumbing, check for lead solders in your internal pipes, look for fixtures containing lead and provide you the best information about replacement options and costs.
You can also check for lead pipe yourself using any of several guidance videos available on-line. We recommend the app below, developed by National Public Radio (NPR), which is a step-by-step process to determine if your service line is plastic, copper, galvanized steel or lead. Just click the following link: https://apps.npr.org/find-lead-pipes-in-your-home/en/#. Or, for a visual guide, click here.
Can the water from my home's plumbing be tested for lead?
The New York State Department of Health (NYSDOH) has initiated a $1.5 million state program to test for lead in residential drinking water. For further details, see:
The program provides New York State residents an opportunity to have their drinking water tested for lead, at no cost to the resident. Residents can complete a short request form, email it to NYSDOH and a sample kit and return postage to the selected laboratory will be sent to the resident. The NYSDOH program will continue until the funds are exhausted.
If the NYSDOH program is no longer available, then there are local independent laboratories that offer certified lead testing services. Options for two state-certified laboratories are listed below:
Several local independent laboratories offer certified lead testing; two state-certified laboratories that offer lead testing are listed below:
| | |
| --- | --- |
| ALS Environmental – Rochester | Life Science Laboratories, Inc. |
| (585) 288-5380 | (585) 213-4090 |
| 1565 Jefferson Rd. | 16 North Main Street |
| Bldg 300, Suite 360 | P.O. Box 424 |
| Rochester, New York 14623 | Wayland, New York 14572 |
| Access the ALS website here | Access the Life Science Lab. website here |

If you have questions on lead testing, then please contact our MCWA water quality laboratory staff at Lab@mcwa.com.
What is the difference between the public portion and private portion of the water service?
The pipe that connects your household plumbing to the water main in the street is called a service line. The diagram below shows the delineation of the Water Authority and Homeowner's responsibility for the service line plumbing.
The portion of the service that we are responsible for starts at the water main in the street and goes to your property line. Public health is our highest priority, so if we find lead piping on the MCWA's public portion of the service line, we remove it and replace it at no cost to the customer.
Beyond the property line, the responsibility of the service line plumbing becomes the property owner's.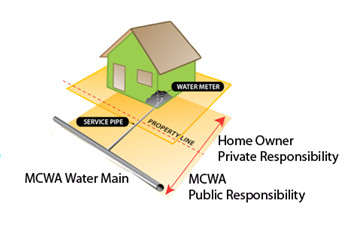 The following resources are available for information on Lead in Drinking Water.