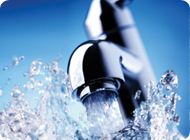 Quick Tip
MCWA's Shoremont Water Treatment Plant can produce up to 140 million gallons a day.
New Rates Effective January 1, 2021
Monroe County Water Authority is committed to reliably providing quality, affordable water that fosters economic vitality and enhanced quality of life for Monroe County and area communities who request service.
To continue providing quality water to our customers, we must maintain a massive infrastructure, some which is nearly 100 years old and much of which is underground. Your water bill helps pay for this maintenance, in addition to operating, maintaining and making improvements to our production, transmission and distribution systems.
As such, rates will increase by approximately $1.15 per month for typical homeowners, effective January 1, 2021. The increase was approved at the board meeting on Friday, December 18.
Click here to view the full breakdown.