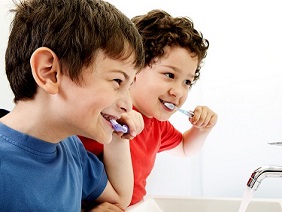 Quick Tip
Every person in America uses about 160 gallons of water a day.
COVID-19 Updates and Information
Safe and reliable water is vital to protect public health, especially to prevent the spread of infectious diseases such as COVID-19. Monroe County Water Authority customers can rest assured that we remain committed to reliably providing quality, affordable water throughout this pandemic.
Tap Water is Safe to Drink
Drinking water supplied by the Monroe County Water Authority is not impacted by COVID-19. Water supplied to our customers meets or exceeds existing federal and state water quality standards. Our treatment plants utilize a series of filtration and disinfection processes that remove and/or kill germs such as the virus that causes COVID-19. According to the Centers for Disease Control and Prevention, COVID-19 has not been detected in drinking water and there is no evidence that people can develop this illness by drinking water. For more information, please click here.
For information on maintaining or restoring water quality in buildings that have low or no use due to the pandemic, please click here.
MCWA Committed to Safety
Providing clean and reliable water is our priority. Monroe County Water Authority has implemented extensive safety measures to prevent the spread of COVID-19 and keep our employees and customers safe and healthy. While the way we operate has changed, our commitment to providing quality water to our customers has not.
Our employees are required to wear masks or protective face coverings in our facilities and when interacting with the public. Workspace arrangements have been made to accommodate proper physical distancing guidelines and extensive cleaning protocols have been implemented. Employees are instructed to monitor their health daily and stay home when they are sick.
Additionally, MWCA offices remain closed to the public except for invitees, who are required to wear a mask, get their temperatures taken and answer COVID screening questions prior to admittance. Customers who wish to submit bill payments may do so via the drop box located in front of the building, by mail or by our online payment portal. For more information on payments, please click here.
How to Avoid Scams
The pandemic has unfortunately resulted in an increase in scam attempts related to utilities. Please be vigilant to protect yourself from scammers who may claim to be associated with the Monroe County Water Authority.
When visiting your home, Monroe County Water Authority personnel are required to wear ID badges that are clearly visible. They will also be wearing a uniform shirt with the Water Authority logo and driving an official Monroe County Water Authority vehicle. If you are unsure if the person attempting to enter your home is an official MCWA employee, please close the door and call us at 585-442-2000 Monday through Friday from 8:30 a.m. to 4:30 p.m. or after hours at 585-442-2009.
Additionally, Monroe County Water Authority employees will not call you to demand bill payments. Customers who are late on payments will receive a letter in the mail.
Payment Accommodations due to COVID-19
We understand that many customers may be facing unexpected financial hardships during the coronavirus pandemic. These are trying times and the Monroe County Water Authority is committed to serving you and our community.
If you are having difficulty paying your bill, please call Customer Service at 585-442-7200 Monday through Friday between 8:30 a.m. and 4:30 p.m. so we can work with you to discuss a plan to get your account back on track.
Questions? Give us a call!
Our Customer Service representatives are dedicated to ensuring customers get their questions answered efficiently and effectively. If you have any questions or concerns, please call us at 585-442-7200 Monday through Friday between 8:30 a.m. and 4:30 p.m. or use the online chat feature available on our website at mcwa.com.